When your product powers millions of businesses and sellers around the world, you're bound to find some incredibly inspiring stories to share on social media.
Yet for some reason, many brands overlook or fail to tap into the vast resource that is their community. But those that do find that there is an unlimited supply of engaging content ideas to share across social media.
For financial technology company Square their community of entrepreneurs and business owners is at the very core of their social media strategy, most prominently on Instagram.
By consistently sharing imagery and stories from real businesses that use the Square product, they've been able to amass an audience of more than 1,000,000 people and brands across social media, including 50,000 followers on Instagram alone.
We had the pleasure of sitting down with Square's social media lead, Nick Dimichino, to find out exactly how they've been able to grow an engaged following on Instagram over the years. Here's what he had to say.
Start with your purpose
Brands today are beginning to realize that it's not always enough to simply post consistently to their blog or social media. Today, consumers and audiences are demanding a lot more from marketing teams and the businesses they decide to purchase from.
They're looking for brands with a purpose.
That's the approach that Dimichino and the Square team take to their marketing:
"When people think of Square, we want them to think about the sellers we serve. Our channels are a place where we tell the stories of those sellers—showcasing their dedication to their craft and drive to achieve their dreams no matter the obstacles. Square's purpose is economic empowerment, and we hope that comes through in everything we do."
Developing a compelling purpose for doing business can have a major impact on customers. In fact, according to new research from Accenture, 47 percent of consumers will leave brands that lack a purpose. And 63 percent of respondents prefer to buy goods from companies that stand for a shared purpose that reflects their personal values and beliefs.
Finding your purpose isn't something you should take lightly as it can have a long and lasting impact on your business.
As a brand, business, or retailer, you might be in a secure place right now, but as soon as consumers find a direct competitor that has products they like, accompanied by a quality customer experience and a purpose-driven mission, just about half of them will leave.
At Square, focusing on their community of sellers was a no-brainer and has helped propel them to success for nearly a decade.
Source high-quality user-generated content
User-generated content comes in all shapes and sizes.
From simply sharing users' photos, to photo contests and product reviews, many thriving companies on Instagram are experimenting with user-generated content in one form or another.
At Buffer, for example, we implemented a user-generated content strategy that helped us to grow our followers by more than 400 percent in one short year.
But one of the things we love about Square is that they take community content curation to a new level.
"We build relationships directly with our sellers and encourage them to share their stories with us—in their own words—so that we can share them with other businesses," explains Dimichino. "It's been a huge part of our strategy, and our sellers have responded in a major way.
Looking at their Instagram feed, it's clear that there's a common and coherent theme threaded throughout each individual photo and video. That theme: inspiring small businesses.
As many small business owners know, there are an array of emotions that go along with running your own business. There are ups and downs, highs and lows, successes and failures. And so sometimes all entrepreneurs need is a little inspiration to remind them that they are not alone in this journey.
"We want to empower people to find their own path to success. No two businesses are alike and we think that our sellers' stories reflect that unique nature," explains Nick. "There's something special about people being able to see themselves in the success of another. Something that inspires them to continue working. If we can have an impact like that on even one person, we've achieved our goal."
User-generated content acts as a powerful form of social proof – providing your audience with genuine content from real people. This helps to develop your brand as a thought leader in your industry by demonstrating that you are willing to your customers and their needs first.
"Our social media strategy really begins in the Square hardware lab. We're extremely fortunate to have beautiful products that our sellers are proud to make the focal point of their social content. It's been an incredible advantage for our brand," Dimichino shares.
Plus there's the added bonus of user-generated content helping to supplement your content marketing strategy. It's a major challenge for businesses to continually come up with original content ideas for various marketing channels. User-generated content provides a never-ending stream of quality assets.
Make Instagram Stories a key part of the overall growth
As competition for space in the Instagram news feed heats up, Instagram Stories continues to offer new and exciting ways for businesses to connect with their audience.
More than 25 million businesses use Instagram worldwide, and over half of those businesses are creating Stories every month.
In fact, Stories are so popular, they might even become the new News Feed.
When asked how Square approaches Instagram Stories, Dimichino described, "Stories is a format that has allowed us to easily connect our community of sellers. We often use this space to put a business and its story directly in front of our larger community of sellers, bringing them together in a way that has been special."
Take, for example, a recent Instagram Stories takeover hosted by a small business called The Salty Donut on the Square account: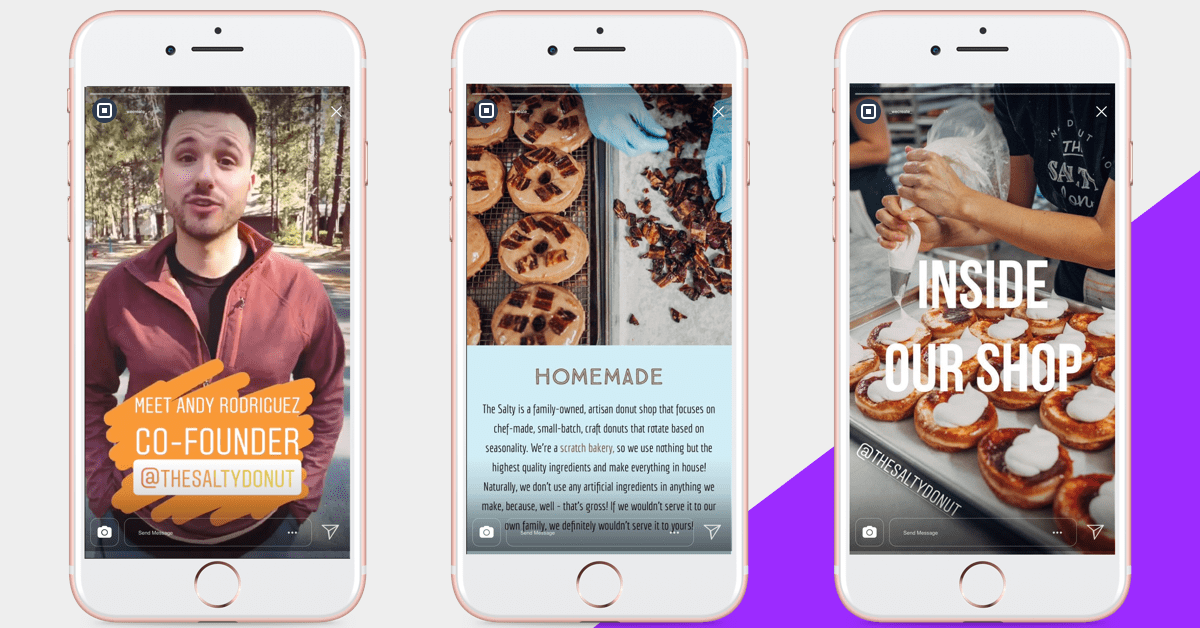 Square also features sellers in their Stories in other creative ways as well – keeping their audience on their toes. In the Heart + Hustle series, Square explores the passion and drive of small business owners, the struggles they face, and why they remain optimistic about the next five years.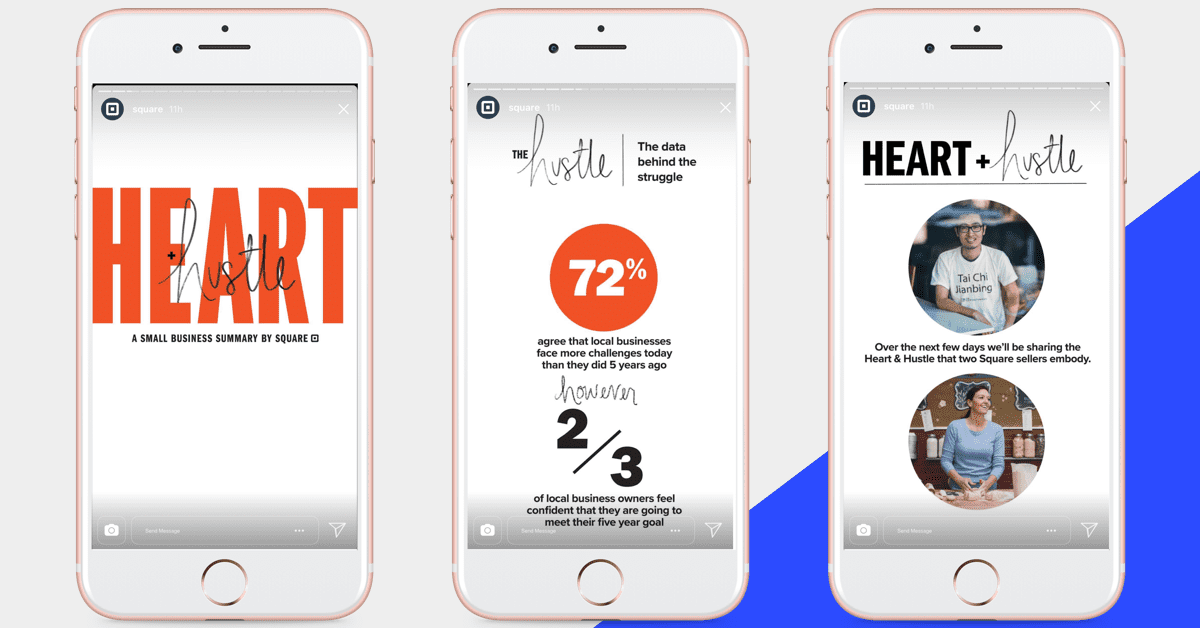 Heart + Hustle is a wonderful example of the power of using content and data to tell a compelling story. In turn, they are inspiring more and more small businesses to pursue their dreams each and every day.
Square's impact on small businesses
Perhaps the most compelling part of Square's social media story is that they take full advantage of their ability to help millions of businesses and sellers around the world grow.
Every single piece of content, from blog posts to individual Instagram photos, is an extension of why they are in business and what they stand for: economic empowerment.
It's as if their marketing team sees it as their personal responsibility to make this a reality each day. Whatever it is, it's working.
More and more businesses continue to share their story with Square, which helps to power their overall marketing strategy, which means more great content for all of us to consume.
The Instagram Marketing Strategy Series
A nine-part series on how to use Instagram for business. ➡️
Up next: